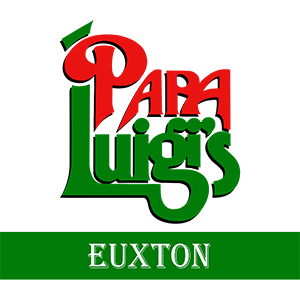 Euxton
Papa Luigi's Euxton…
…is a family-run Italian restaurant and has firmly established itself as a favourite restaurant for all ages with a lively atmosphere. Located on the main Wigan Road in Euxton, Papa Luigi's serves an extensive menu including delicious starters, pizzas, pasta dishes, risotto, fish, meat and homemade desserts. Please view our menus and check out our special offers, we have something for everyone every day of the week!
Don't miss our Monday Madness Offer – £5.95 for any pizza/pasta all-day (available every Monday except Christmas)
We also offer Takeaway, available every day during opening hours and £8.95 for any pizza/pasta. The full a la carte menu is also available for takeaway.
Our menus include Vegetarian and Gluten Free options and if you have any queries, please do let us know.
Papas also caters for parties whether it be a special occasion or corporate, please enquire for more information.
There is a large free car park behind the restaurant and an overspill car park opposite Papas during peak times.
Reservations are encouraged especially for Monday's and other peak times on 01257 262644 and we look forward to welcoming you soon to Papa Luigi's.
Thank you from Misi and the Team
169 Wigan Road
Euxton
Chorley
Lancashire
PR7 6JH
Monday
12:00 – 21:30
Tuesday – Thursday
12:00 – 14:00 17:30 – 22:00
Friday – Saturday
12:00 – 22:00
Sunday
12:00 – 21:30